Traveling with family can often feel like work rather than a vacation. As Meaningful Mom previously detailed, the fatigue from a jam packed holiday can catch up on you. As a parent, you always have to keep an eye on your kids while simultaneously managing your daily schedule, accommodation, and transportation, among other things.

But if there's one aspect that makes all the difference when traveling, it's where you choose to lay your head at night. Parents, children, even pets need a good night's rest if you want to survive a family holiday in NYC, one of the busiest places on earth. So, take a look at some of these accommodation options that might suit your taste and needs. Oh, and don't forget to let us know what you think in the comments section at the bottom of the article.

Family-Friendly Hotels

Luxury:

Le Parker Meridien
The inside of this Midtown hotel gives off a resort-like ambience, with an indoor rooftop pool that children will just love. If you're not up to cooking, take your family to the hotel's signature restaurant, Norma's. One of their bestsellers is their French toast drizzled with melted chocolate. For snacks, another option is to sample any of the yummy burgers in the Burger Joint, which is located at the hotel's atrium lobby. It's one of New York's finest dining spots for sliders and finger food.



The Roxy


The Roxy comes highly-recommended by Business Insider for traveling professionals and families alike. Make sure to book a Deluxe Double so there's enough space for everyone, even Fido as it is also a pet-friendly hotel. Guests have access to a private park where kids can play fetch with their dogs and run around on their own. The Roxy also has an underground jazz lounge for parents to sneak off to at night.

Omni Berkshire Hotel


You can tell upon arrival at the Omni Berkshire Hotel that the kids will be kept busy here. There's a complimentary bag filled with goodies for kids to play with and even milk and cookies on the first night. The hotel is a stone's throw away from Central Park, Times Square, and the Rockefeller Center so you will never run out of entertainment.

Midscale:

The James


This spacious hotel in Lower Manhattan is near the Brooklyn Bridge, the 9/11 Memorial, and ferries to Liberty Island. Just grab a map from the lobby and it'll be dark before you get back!

Budget:

NU Hotel


Brooklyn's NU Hotel is an affordable option for families looking for a comfortable stay in NYC. The interiors are splashed with cool murals and the rooms are surprisingly spacious. Bigger families should opt for a Bunkbed Room as they have a queen bed along with twin bunk beds and a small dining area.

Skyline Hotel


The rooms may be basic in Skyline Hotel but they are very comfortable. There's even a heated indoor pool that kids can swim in for hours on end.

Alternative Accommodation Options

Bed and Breakfast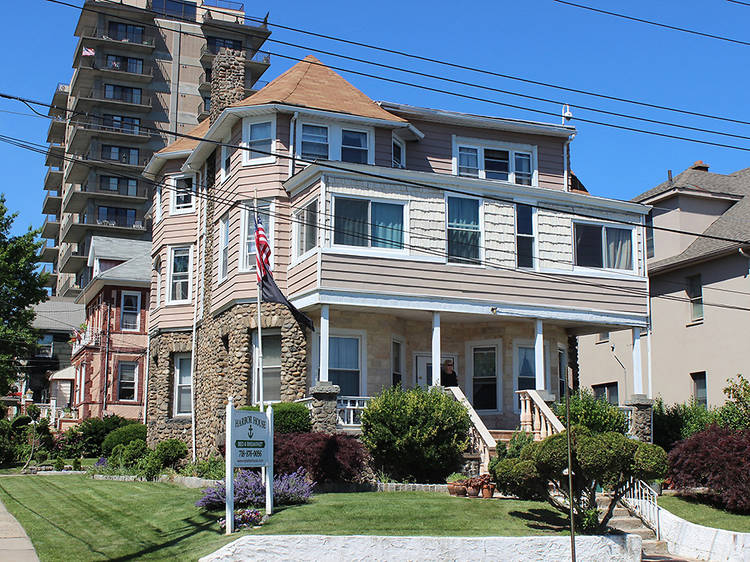 If you find hotels a bit on the pricier side, one viable alternative is a bed and breakfast. The great thing is that there are plenty of options at different price points, as shown by Time Out. Check out Harbor House in Staten Island or the Lefferts Manor in Brooklyn that will definitely feel like a home away from home.

Short-term apartment rentals


There are just too many things to do in NYC, so much so that some families choose to stay for a few weeks. If that's the case, consider getting a short-term apartment lease. You can look through different platforms like Airbnb or FlipKey where you can rent a unit for at least a month.

NYC has specific regulations when it comes to short-term rentals, and one of those is that you need to stay for a minimum of 30 days. The only way you be allowed to rent it for a shorter period is if there is a host present in the property. You also need to check if the building can be rented as an apartment and if the landlord/landlady has a certificate of occupancy (CO). If there is a part of the rental building that is under construction or renovation, Yoreevo points out that the owner may acquire a temporary CO. Verify with the host or landlord/landlady if these are complete as the NYC government can order tenants to vacate the property immediately. It can be a real headache and your vacation might get spoiled, so do the research beforehand. That being said, NYC is a concrete jungle with plenty of rental opportunities. Just be patient while searching for the one best that's best suited to your family.

House Sitting



A more unconventional option is to house sit. House sitting is basically taking care of someone's property while they are away in exchange for free lodging and use of their amenities. Forbes claims that house sitters need to be good with pets as it is the main reason people put up their residence for house sitting. For the majority of the time, there will be a pet to take care of so you will have to include that in your responsibilities on your vacation. Nonetheless, it can be an interesting experience for the family.